Mobile Phone Barcodes
Introduction to Mobile Phone Barcodes
Over 200 models of mobile phone handset currently support reading 2-dimensional black & white barcodes. Barcodes are printed on most items these days, but only recently has it become common practice to scan barcodes with mobile phones. As most of us carry a mobile phone with us at all times it's exciting just what opportunities are now open to businesses when it comes to increasing turnover.
Mobile Phone Barcode Types
The three main types of barcodes are: QR Code (big in Japan), DataMatrix (seen across Europe), and Aztec. These are the codes that can be read by many industry standard products and software installed as standard or available for free download from a variety of sources.
There are a number of other barcodes used by particular companies to ensure proprietary use, the main reason being to maximise their own profits and control the market by establishing a monopoly for reading and writing their barcodes.
Where to find mobile phone barcodes
Over the coming months you will see more and more 2-dimensional barcodes appearing on products prompting you to scan with your mobile phone. Companies will be using them to advertise other products in their range of food or drink, give access to promotional offers, and a whole range of other things.
You will see them appearing in newspapers, on billboards, posters, even television shopping channels.
Interest is growing fast in this market and forward thinking companies are getting in early ready for this technology to be well publicised and take off across the Western world (it has been in use in Japan now for some years).
Looking for barcode business cards?
We can produce mobile phone barcode business cards like the one below for just £10 + VAT. Please
contact us
for details.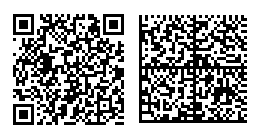 In Shrewsbury it's 22oC and clear sky. It's 13/08/22 03:35 GMT so local time in Shrewsbury is 13/08/22 03:35 with sunrise at 04:49 and sunset at 19:42. Visibility is currently 10 km and we have a 9.252 km/h wind ENE (070o). The humidity in Shrewsbury is 49% and the air pressure is 1018 mb.